From February 16th to 20th 2020, the 20th edition of EuroShop will take place in Düsseldorf! This event is a key moment for the retail world, as EuroShop is now the largest international trade fair dedicated to it. Of course, we will be present for this new edition under the colours of Marin's / Quad with a stand dedicated to the universes of our two entities!
Let's come back together on the different stakes of such an event, as well as the interest for any point-of-sale marketing company to attend it. 
Euroshop 2020 in a few figures
Inaugurated in June 1966, EuroShop has progressively become an essential commercial event for the retail industry. A global giant that must be summarized in a few key figures. In 2017, the EuroShop was: 
113,000 visitors from all over the world.
More than 2300 exhibitors.
127,000 square metres of exhibition space.
97% visitor satisfaction.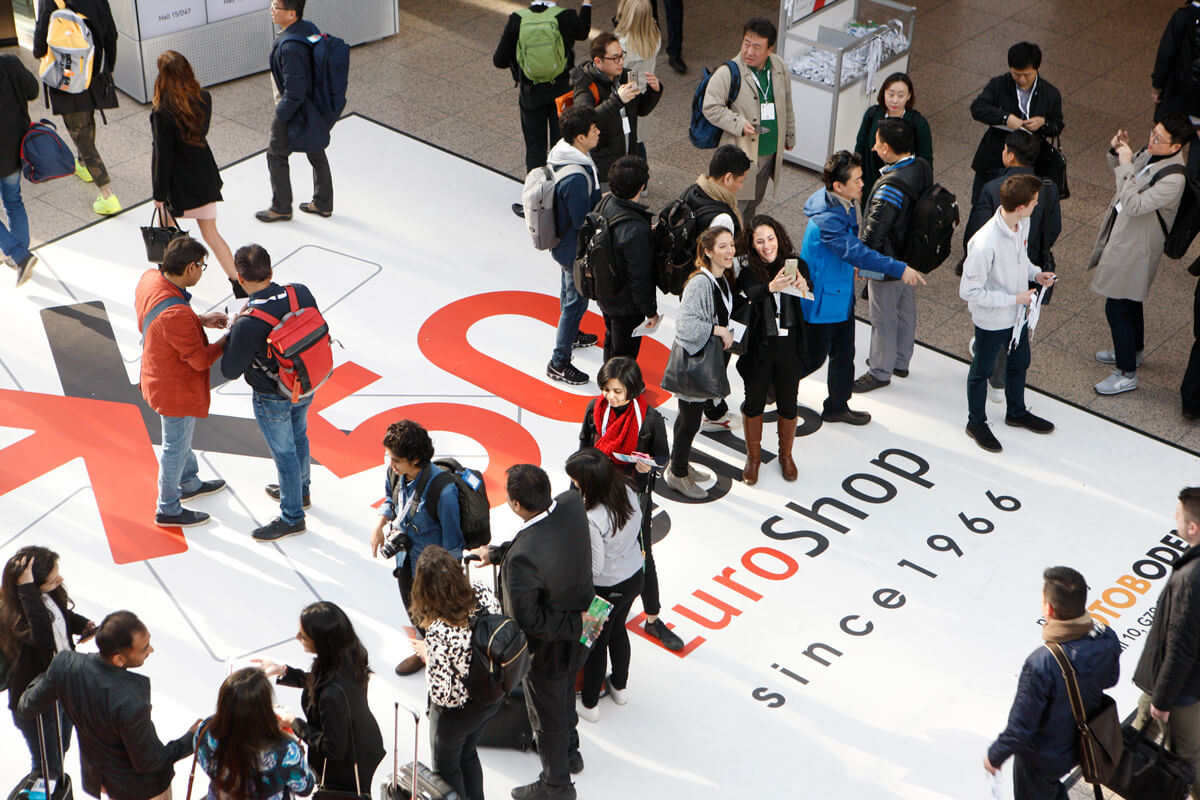 A simple and targeted visitor experience 
In order to facilitate the circulation of visitors for EuroShop 2020, while offering them spaces arranged according to their needs, the show is divided into 8 distinct zones each meeting various retail objectives: 
Retail Marketing
Retail Technology
Expo & Event Marketing
Lighting
Visual Merchandising
Food Service Equipment
Shop Fitting & Store Design
Refrigeration & Energy Management
The purpose of such a segmentation?  Make visitors discover a wide range of companies, with each one presenting its own solutions adapted to the problems of the market. This triennial event is a golden opportunity for Marketing in Store players to position themselves as leaders in their sector! 
What are the advantages for an in-store marketing company?
A professional fair is above all an opportunity for any company to promote its activity, but also to develop its network and generate new business opportunities! 
Thanks to its openness to the world (with 66% of international visitors), EuroShop is a catalyst for exchanges and professional encounters, and thus facilitates connections and collaborations!  
What are the best practices to adopt at a trade fair?
EuroShop, like other trade fairs of the same type, places innovation at the heart of its construction. As consumption and communication patterns are constantly changing, it is essential to provide concrete solutions to the concerns of the retail world. Present your latest creations and respond intelligently to the problems of customers and potential prospects, these are the challenges that exhibitors take up for each edition.  
The secrets of an optimal stand: 
An easily identifiable visual identity
A simple and attractive design
Products and innovations that speak to visitors
A sales team capable of guiding the visitor 
Clear and distributable communication materials
Marin's: What's new for the 2020 edition?
As the saying goes, "unity is strength"; through this group, we combine undeniable expertise in both design and manufacturing. We are constantly developing solutions that are always innovative but also virtuous for the environment and your budgets. Our group will support you on regional, national or European scale projects! 
It's up to you to make the most of our sales and design offices, located near you, and our production platform with the best equipment.